Unveiling... The Danceologie Series!
I've been dancing almost all my life! From traditional Balinese dance to classical Ballet to contemporary Disco dance (remember Disco?). Perhaps it's no wonder since my mother is a dancer herself! In my adult life though, I found myself dancing less and less. However, I recently discovered NIA Dance - which incorporates various aspects from 9 disciplines (3 dances, 3 healing practices and 3 martial arts). It is so rejuvenating and exhilarating - I am now doing it twice a week! It just feels so good to move my body in this way! How about you?
All this has inspired me to create this Danceologie Series! It is filled with delightful things that you will need to scrap about all sort of dances: from graceful dancing silhouettes that covers various movements from classical ballet to modern jazz to free style dances to gymnastic - to versatile backdrop curtains to fun spot light overlays... Of course, you can use the Danceologie Series to scrap for other themes too - after all, didn't someone famous say that "Life is a Dance"?
Also available as separate packs:
When you purchase the Danceologie Package Saving, receive this exclusive Bonus Pack: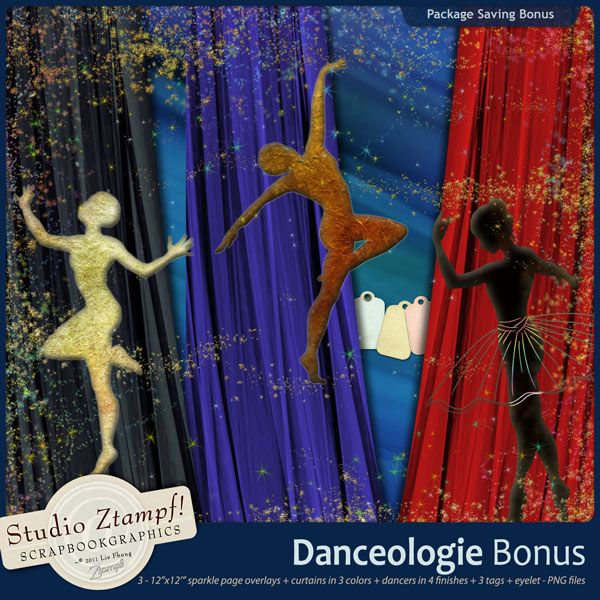 See what the Z!Girls have made with it: