Have you been to Studio Ztampf! recently? "The Great Expectations Collection" has finally been brought to Studio Ztampf!
"The Great Expectations Collection" is not your ordinary pregnancy digiscrap kit. In fact, it's not an ordinary kit at all...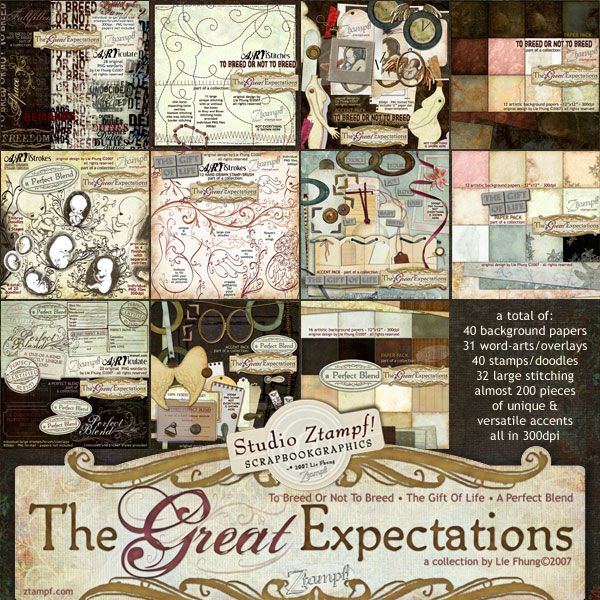 It all started before I discovered digital scrapbooking, back in early 2005 with my art project 'To Breed Or Not To Breed' which eventually brought me to the world of digital scrapbooking, which in turn was developed into a very special collection as I continue to work on the art project itself. This "Great Expectations Collection" was first released in 2007 and finally I have brought it here... I decided not to make any changes as this is a historical collection for me. The only change I made is the price (it used to be available at $33, and now it is only $22.75 as I would like this to be affordable to more people) and I added more new stuff into the Bonus Pack!
This is the mega kit to scrap and journal about your pregnancy and beyond. Nothing is too dark or too sorrowful to be scrapped with this kit. Nothing is too blissful or too enlightening either. This is for those times of deep fears and worries and tragedies. This is for those moments of happiness, joy and relief. And anything else in between.
Each pack in this collection is available as separate products as well. Read more details about each pack in the individual product pages. Original total value of the separate packs is $38.00; you'll automatically save $15.25 when you purchase the entire collection: it's 40% OFF! Plus... there are several brand new additional items not available in any of the separate packs :). Clearly the best deal!