•
See what I have done using the versatile and elegant KOLO Albums
here
!
T
he hardbound coffee-table style photobooks are impressive and especially great for gifting. However, don't you sometimes wish you could make changes to them? Perhaps you would like to rearrange your pages, perhaps you need to correct some mistakes, perhaps you would like to change some layouts, or perhaps - you simply want to add some pages to your album.
Well, meet
KOLO Albums
! You probably have seen them in some nicer stationery stores - very well made hardcover albums in classy style. They are used by a lot of professional photographers, artists and designers to showcase their work. And now they have inkjet pages for your digital images! Check them out here:
http://kolo.com
- their Albums come in a variety of beautiful designs, colors and sizes.
What is more... they have just launched their online printing services:
http://mykoloalbum.com
!
You'll love it! It's easy and fast to upload your layouts there. So now you can have elegant cloth albums that are versatile and flexible! PLUS... an album that grows! Yes, you can add new printed pages to your albums. Isn't it wonderful?
They come in various sizes and models which will be perfect for hybrid scrapbooking, altered-art crafts and gifting too. And yes, everything is acid-free :). The whole album is of archival quality!
Visit the
KOLOIST Blog
too - where you can read interesting and inspiring articles. My projects have been featured there:
Childhood Memories in Newbury
,
Art Mixed-Media in Mango Noci
,
Soar in Cobalt Noci
and
Flight Journal in Chocolate Newport
. May you be inspired to create your own :).
I am also happy to mention here that they were the generous sponsor for
Ztampf!
2nd Birthday Weekly Challenges
in 2007. Winners of the challenges received some elegant
KOLO Albums
- and
Ztampf!
Gift Certificates. The Grand Prize Winner received the Newport 12"x12" Album (pictured above) with the inkjet pages refill pack plus a Cortina CD Album (pictured below).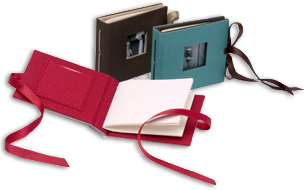 The weekly winners received either the Cortina CD Album or the Cortina Mini album pictured above. Additionally, all the winners received a
10% Off Discount Coupon
for use at
http://mykoloalbum.com
and a
Ztampf!
Gift Certificate. Just visit
Ztampf!
2nd Birthday Weekly Challenges
page to find out more!
Don't forget to drop by at
KOLO website
to discover the elegant, understated beauty of their albums!
.