Art-Making & Gift-Making Time is HERE!
It's been an intense month for me in my art studio. I have been working there daily for my upcoming solo art exhibition in my hometown Jakarta this fall. Would you like to participate in one of my art project? Along with the Portals, Universal Scrapbooks are part of the Dream Archives Project - generously sponsored by KOLO. I really hope that many of you would take part in my Universal Scrapbooks Project! You don't have to be an artist, anyone is welcome! Just click here to learn more on how you can have a little bit of your dream showcased in the beautiful KOLO new Kaji Albums as part of my artwork! While you are there, you can see some of the finished Portals too... done with the 'almost indestructible' KOLO Havana Boxes. Enjoy your visit :). Don't forget to participate in the Universal Scrapbooks Project! It would make a fabulous 40th birthday gift for me ;).
And hey! It's mid of August already! Time to start making your super special gifts for those super special people in your life for Christmas and New Year! Yes, the much anticipated Ztampf! CraftyCalendar 2010 Kit is here! At the moment there are US English Version (with weeks start on Sunday) and Global English Version (with weeks start on Monday). Deutsche Version and Version Française are coming up next. Just let me know if you want one in your language! In the past I have done the Crafty Calendar Kits in Svenks, Dansk, Norsk and Nederlands. Jewish and Moslem Add-On Packs are coming up. The Chinese Add-On Pack has been available since last year here. Meanwhile, take a closer look at the new Ztampf! CraftyCalendar 2010 Kit!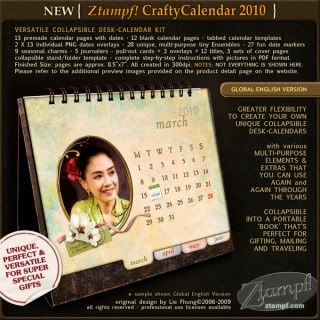 Looks like sometimes some subscribers didn't receive the Ztampfever in their inbox although they have subscribed, have had my email address in their White List and Address Book and they even have been receiving many issues of Ztampfever before! As this seems to happen at random and caused by too many possible factors beyond my control, I decided to always post the direct link to the new Ztampfever on my Ztampfilicious Blog and on the Ztampf!Shop front so those who missed it could just get it anytime. Those who subscribed and been receiving it can keep enjoying it.
Last but not the least... ZCCL10saving is the coupon code to use when you purchase the Ztampf CraftyCalendar 2010 Kit (either US English or Global English Version or both!). It will give you a 25% OFF Discount so don't forget to use it. Valid for one use per person from now through Monday, Aug. 31st 2009.
Since turning 40 is something that calls for a special celebration, I'm giving you all a $3 Coupon to spend at Ztampf!Shop. Just enter this coupon code at check out: fhungisnowforty. Plus... I'll draw 8 lucky names from any orders placed between now through Monday, Aug. 31st 2009. These lucky 8 will receive a special surprise gift from me that may or may not be Ztampf!-related :).
So go on Ztampf!Shopping! See what's new since your last visit HERE! Enjoy!