What's the news?
Yeah! Ztampf! Digisrcaptistry is one year old as of today! How it has changed my life!
Let's celebrate Ztampf! 1st Birthday together tonight, FRIDAY, Sep. 15th 2006 with a Chat at DigishopTalk's
Chat Room: http://digishoptalk.com/chat.html from 9:00 to 10:30 pm EST (New York, US time zone).
To find out what is the time at your time zone, go to this nifty site: here.

There will be ztampfilicious gifts to give away for everyone present at the party! There will be a fun Quiz with prizes you wouldn't want to miss! There will be some exciting announcements to broadcast then too... you will be the first to know! And of course... a chit-chat with me and the Ztampfilicious Girls! All the gifts and prizes are brand new items currently not available for selling anywhere else! You'll be the first to see and to have them!

So... be there tonight: FRIDAY, Sep. 15th 2006 - 9:00 to 10:30 pm EST.
We really look forward to celebrating Ztampf!'s 1st Birthday with you all!

Meanwhile... as my way of saying thanks to all of you... Please enjoy: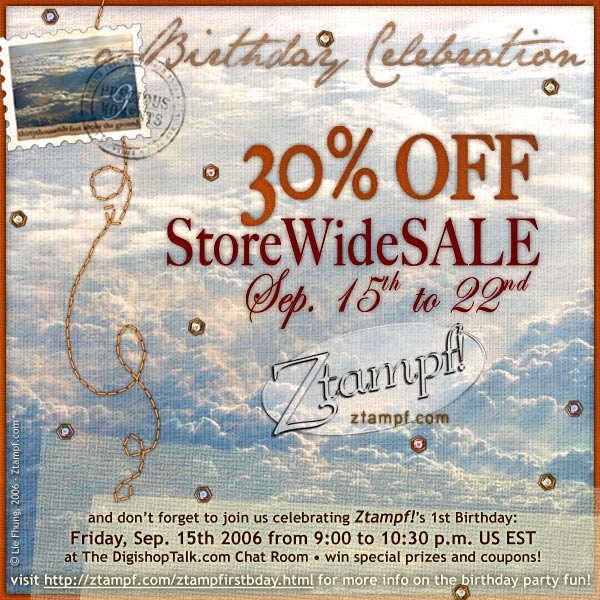 Don't miss this rare opportunity!

And please welcome the Ztampfilicious Guest of The Month of SEPTEMBER: Novita Solihin, of Indonesian origin
like me but now lives in Malaysia! You'll be blown away by her ztampfabulous layouts at her Ztampfest Gallery.

The Ztampfilicious Girls have been cranking up many gorgeous layouts as well! Check out the Ztampfest Gallery to get some cool inspirations on using Ztampf! stuff.








Watch out for new stuff and fun birthday celebration activities throughout the month...
Check back to Ztampf!Site often to find out. New updates will be posted to the Ztampfever page.
Hope to see you all at 9 pm tonight in the DigishopTalk's Chat Room!